Farrow Walsh joins in with Apprenticeship week!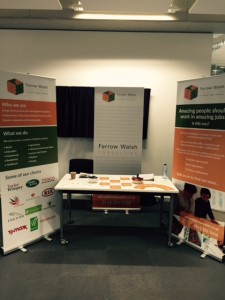 Leicester College held their annual Apprenticeship Careers Fair on 15th March 2016 and Farrow Walsh were delighted to be in attendance.
In total 34 employers attended the Fair along with over 1000 Apprentices.
Organised to fit in with the National Apprenticeship Week celebrations, the Fair aims to bring local employers together to meet Apprentices from across a number of disciplines.
Research by the National Apprenticeship Service (NAS) found that the majority of apprentices (90%) stay in employment (including 2% self-employed), with seven in ten (71%) staying with the same employer. NAS found that qualified apprentices were 15% more employable than those with other qualifications.
Tracey Kinsley, Vice Principal of Employer Engagement; Commercial and International at Leicester College says: "Apprenticeships enable businesses to grow their skills base and provide them with an opportunity to build a pool of high-quality future recruits for their business."
Jon Davey, Project Engineer at Farrow Walsh who attended the Fair said: "We received a significant number of inquiries on our stand. We were the only structural and civil engineering firm present and there was a lot of interest shown in working with us.  We hope to receive a number of applications from those Apprentices that attended the Fair."
If you are interested in a career with Farrow Walsh, visit our careers page here.